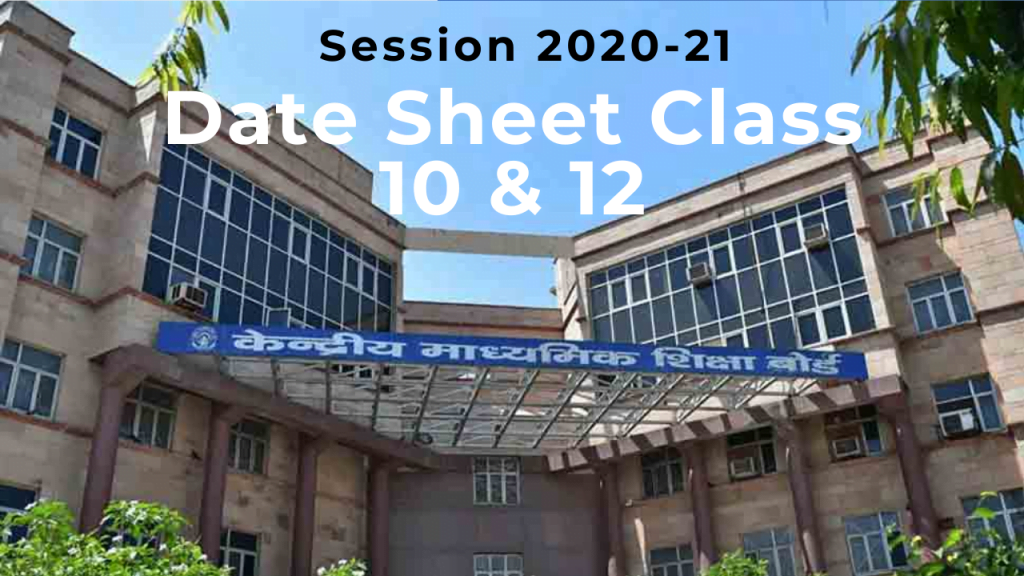 CBSE Board Class 10 and Class 12 Exam Date Sheet 2021 Updates: The Central Board of Secondary Education (CBSE) released the date sheet of classes 10 and 12 examinations today. The exams are scheduled to be held from May 4 to June 10. Education Minister Ramesh Pokhriyal Nishank released the datasheet through a video message and wished students for the exams. The date sheet is available now at cbse.nic.in.
As per the date sheet, the exams for class X will conclude on June 7, while those for class XII will conclude on June 10.
Due to the pandemic, the syllabus for both class 10 and 12 exams has been reduced by 30 per cent. Further, board exams will have 33 per cent internal choice questions. The schools will conduct the practical exams from March 1.
---
CBSE Class 10 Date Sheet 2021 – Main Five Subjects
Date
Time
Subject Code
Subject

06.05.2021

10.30 AM – 01.30 PM
184
English LNG & LIT

10.05.2021

10.30 AM – 01.30 PM
002
Hindi Course A
10.30 AM – 01.30 PM
085
Hindi Course B

15.05.2021

10.30 AM – 01.30 PM
086
Science-Theory
10.30 AM – 01.30 PM
090
Science W/O Practical

21.05.2021

10.30 AM – 01.30 PM
041
Mathematics Standard
10.30 AM – 01.30 PM
241
Mathematics Basic

27.05.2021

10.30 AM – 01.30 PM
087
Social Science

29.05.2021

10.30 AM – 12.30 PM
402
417
Information Technology
Artificial Intelligence


07.06.2021

10.30 AM – 12.30 PM
165
Computer Applications
---
CBSE Class 12th Science Stream Date Sheet
Date (Time: 10.30 AM – 01.30 PM)
Subject Code
Subject

04.05.2021

001
English Elective
301
English Core

08.05.2021

048
Physical Education

13.05.2021

042
Physics
625
Applied Physics

18.05.2021

043
Chemistry

24.05.2021

044
Biology

29.05.2021

065
083
265
283
802
INFORMATICS PRAC. (NEW)
COMPUTER SCIENCE (NEW)
INFORMATICS PRAC. (OLD)
COMPUTER SCIENCE (OLD)
INFORMATION TECHNOLOGY

31.05.2021

002
302
Hindi Elective
Hindi Core

01.06.2021

41
Mathematics
840
Applied Mathematics
---
CBSE 2020-21 Class 12 Commerce stream date Sheet – Main Subjects
Date (Time: 10.30 AM – 01.30 PM)
Code
Subject

04.05.2021

001
301
English Elective
English Core

08.05.2021

048
Physical Education

12.05.2021

054
833
Business Studies
Business Administration

17.05.2021

055
Accountancy

25.05.2021

030
Economics

29.05.2021

083
802
Computer Science
Information Technology

31.05.2021

002
302
Hindi Elective
Hindi Core

01.06.2021

041
840
Mathematics
Applied Mathematics
---
CBSE Class 12th Date Sheet 2020 for Arts stream
Date (Time: 10.30 AM – 01.30 PM)
Code
Subject

04.05.2021

001
301
English Elective
English Core

08.05.2021

048
Physical Education

19.05.2021

028
Political Science

28.05.2021

039
Sociology

31.05.2021

002
302
Hindi Elective
Hindi Core

02.06.2021

029
Geography

05.06.2021

037
Psychology

07.06.2021

064
0Home Science

10.06.2021

027
History
CBSE Session 2020-21 Date Sheet – The Official Notification