Hello Dear Visitor!
We very humbly wish to say that we need Your Support!
A work of charity broadens heart, enlarges reputation and brings smile on both the faces-the giver and the receiver! For us, your every bit of support in the form of donation of any amount will help us great in keep us moving with our mission of providing quality study materials to students through this website ncerttutorials.com
You can click below Donation-Button to donate any amount in a safe and secure environment. We have partnered with PayU for secure transactions.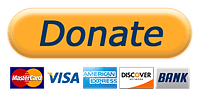 If you need any further assistance or just wish to have some talks with us, please fill the farm given and send your message.
We shall be there to respond to your message at the earliest.